Balis Hottest Destinations
Bali's Hottest Destinations
Currently, this is one of the most popular travel destinations in the world, and with good reason too! It is one of the most beautiful and diverse places on Earth which helps it live up to its name of Island of the Gods. With plenty of pristine white beaches, epic surfing spots, dense green jungles, divine rice fields and crystal clear blue oceans there is a bit of something for everyone here.
As well as sea and sand however Bali has a huge number of other attractions to enjoy such as temples, caves, waterfalls, museums, and markets, and if you like history and culture then you can spend hours learning the local legends and Balinese traditions in places like Ubud or from any of the locals.
Be sure to check out these hottest destinations in Bali:
1. Bukit Cinta
This has to be one of Bali's hidden gems at the moment which only a few people seem to know about. While the rice terraces of Ubud are the main attraction and draws hordes of people daily, Bukit Cinta is relatively quiet and offers some incredible views. It is a luck of the draw however, as Mount Agung should be able to be seen in the background but unfortunately I wasn't so lucky. For those that are lucky, it provides such a beautiful and awe-inspiring backdrop with rice fields and mountains taking your breath away.
It is usually best to get here early for sunrise for the best views and colours as the morning dew really adds to the atmosphere and is also a great time to keep out of the intense Bali heat.
2. Camaya Resort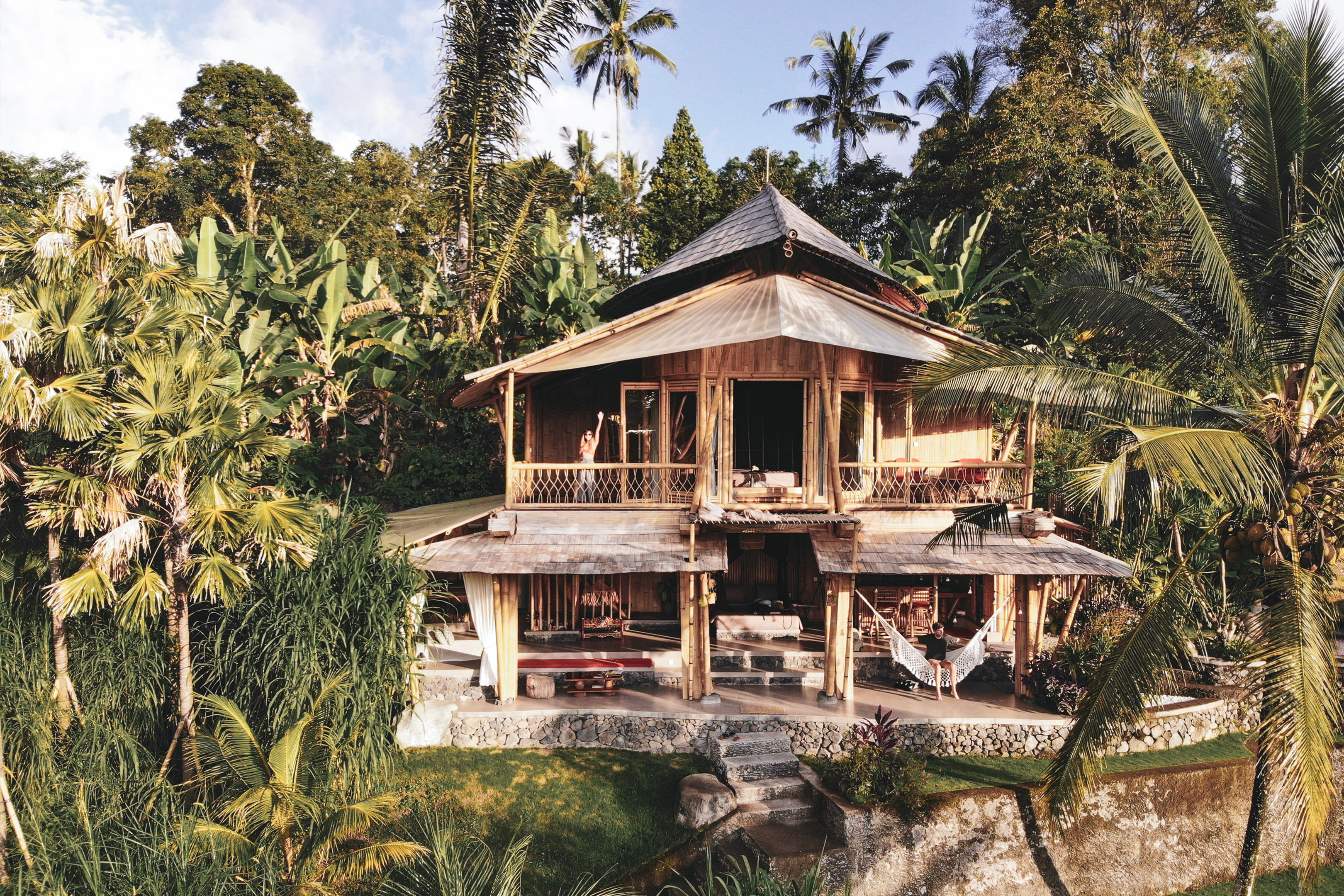 This incredible looking Airbnb is located only an hour and a half away from Ubud and with its distinctive uniqueness it is quite an eye pleaser for any holiday maker wanting something different from their trip. Hidden away in the mountains, it offers the ultimate seclusion with fantastic views of Mount Agung and the surrounding rice fields and jungle. It comes equipped with its own pool, fully equipped kitchen, hammocks, two bathrooms, two queen sized beds, games & books, breakfast and some of the best sunset views I have ever seen.
The whole building is made entirely out of bamboo which adds to the Balinese feel creating a paradise within paradise inception kind of feel. It is also in a great location as you can reach Lempuyan Temple and Bukit Cinta from here by scooter which they also offer free of charge. Be sure to book up in advance though as there is usually quite a long waiting list for this exclusive property.
3. Lempuyang Temple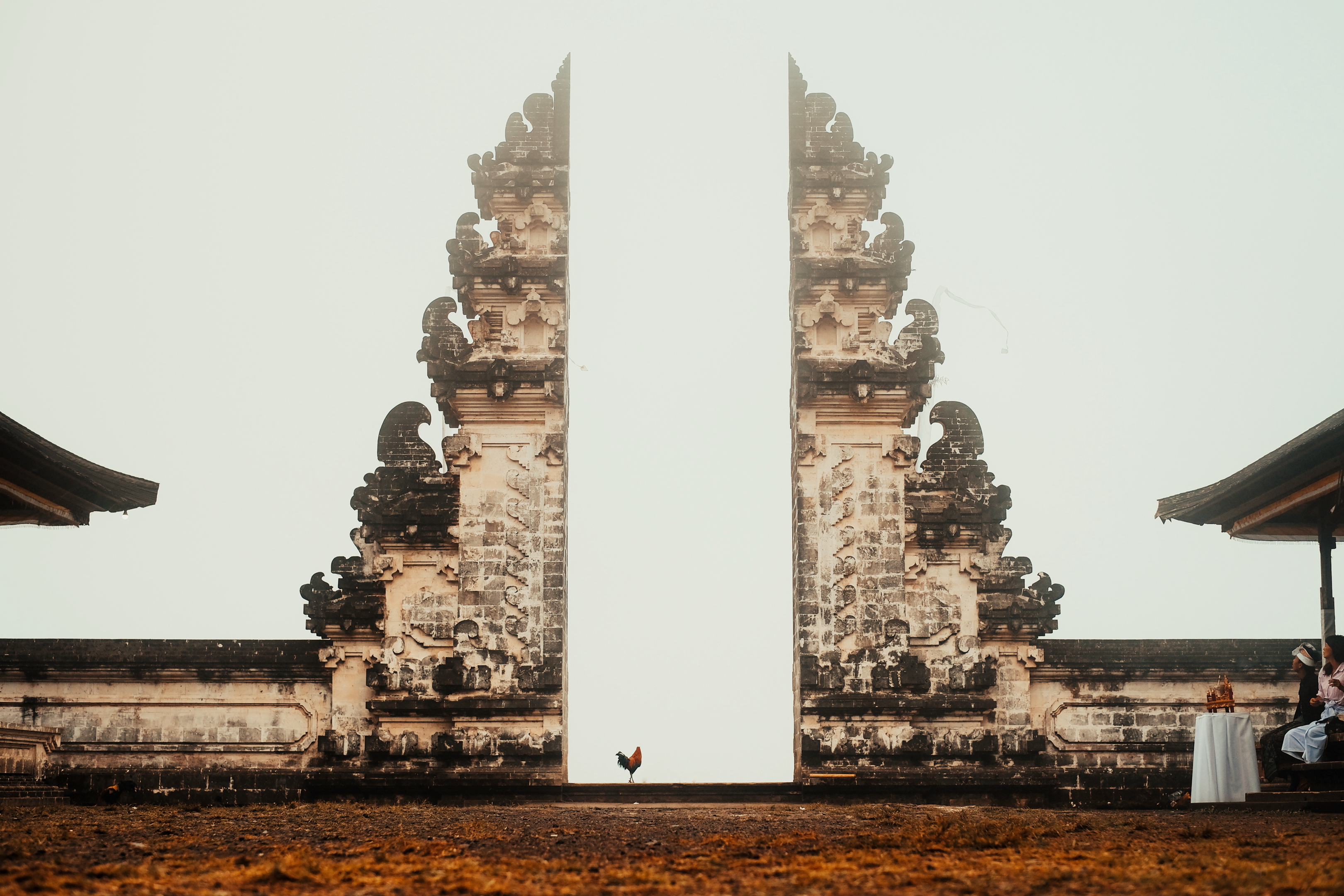 Definitely one of the most Instagrammable places in Bali at the moment and most infamous for the mirror reflection that is placed underneath the bottom of the temple to create a dreamy and bottomless effect. On the rare occasions where the weather gods are being kind you can usually have a clear view of Mount Agung directly through the centre of the two gates. This temple has a lot to for you to explore, including the impressive steps directly behind this view and the surrounding area.
The only downside to this temple being so popular? You guessed it, lots of crowds! When I arrived at 8am it took another 2 hours of queing to get my photo and that included standing in the hot sun. So be sure to bring a lot of water, so shade and perhaps get there even earlier – say 6am.
4. Munduk Moding Plantation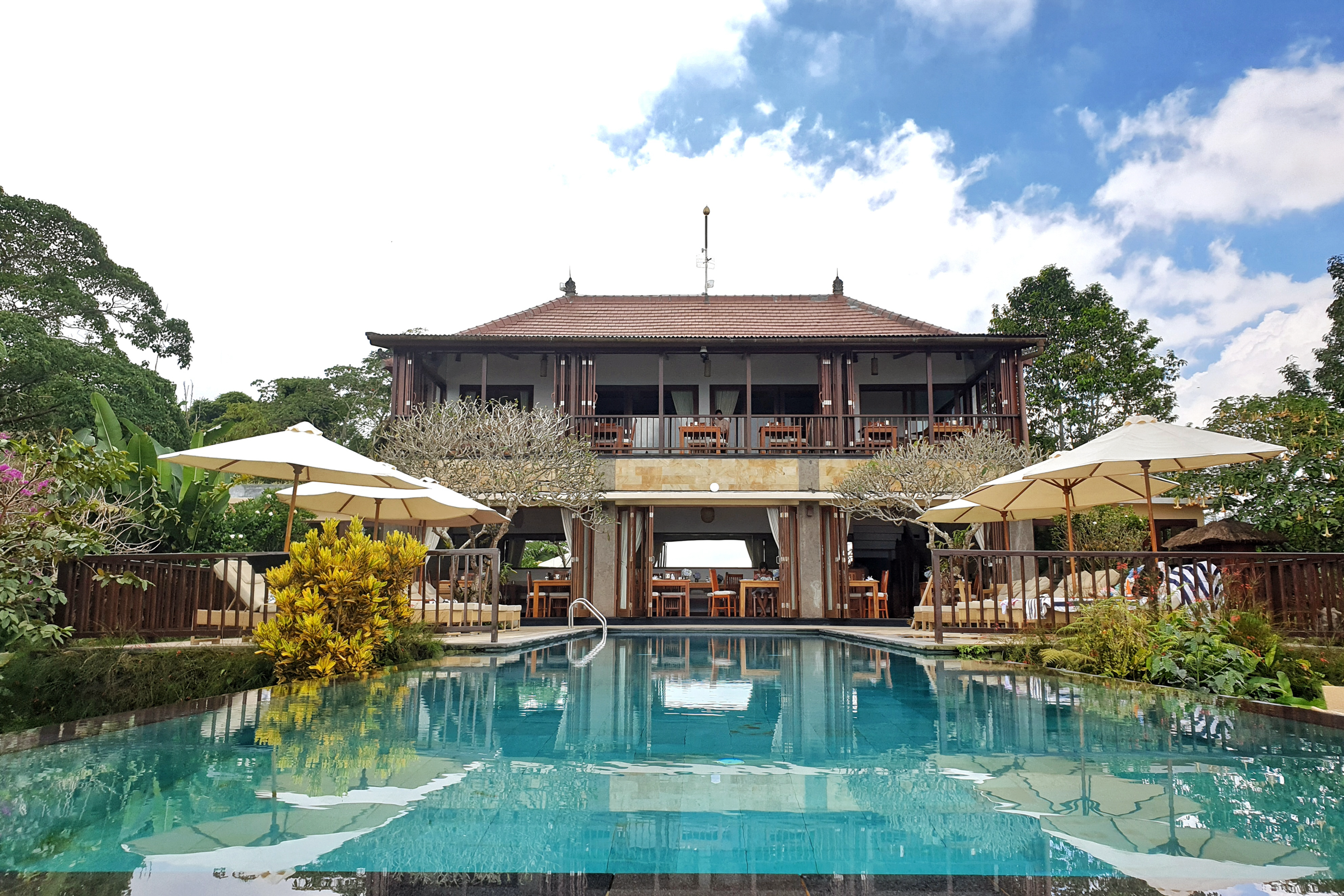 Located in the north of Bali, Munduk Moding Plantation is one of those unique resorts you need to stay to get the true Balinese experience and not to mention some of the best coffee you will find on the island. It is most famously known for its jaw dropping infinity pool which overlooks the surrounding mountains and rice fields creating some one of a kind photo opportunities. The best time to get your photos however, is early morning when the colours and clarity is at its best.
The villas are huge, with king sized beds, beautiful views, fresh fruits, daily water and a lovely homely feel to them. The resort itself also has an onsite restaurant with lots of delicious cuisines, ping pong table, pool table, gym, spa & wellness centre, high tea and plenty of entertainment to keep you occupied. It is also well located as Handara Gates and Ulun Danu Bulian Temple are only 20 minutes' scooter ride away.
5. Elephant Cave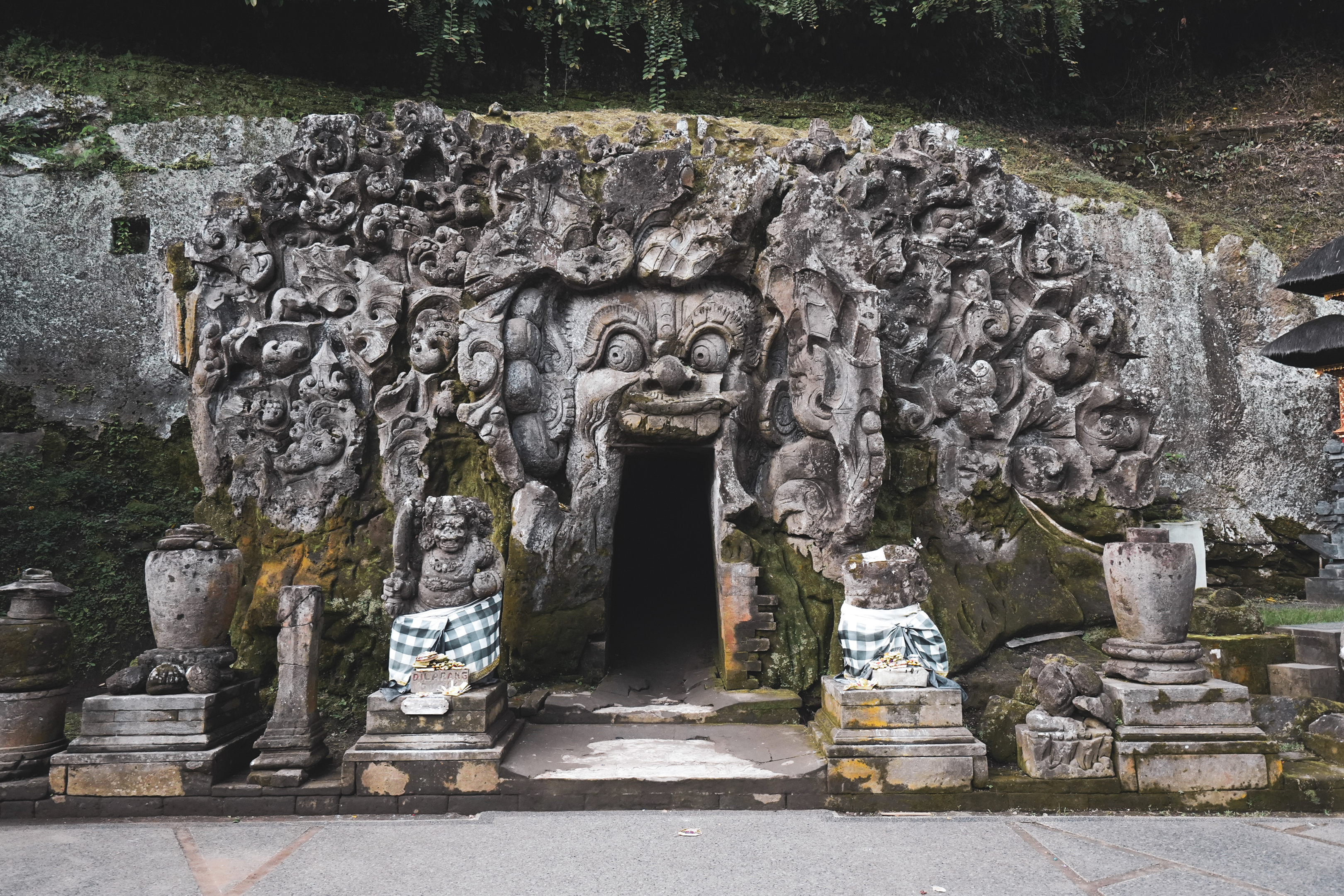 This has to be one of the more understated attractions in Bali, but one I definitely feel should be visited by everyone as it has a certain appeal to those not only interested in the history and culture but also just to see something pretty unique. Goa Gajah (AKA Elephant Cave), is a slightly misleading name as it means gigantic dwelling full of elephants, which isn't quite the case here. It is instead, an archaeological site filled with relics, rock-wall carvings, bathing pools, fountains and of course the cave.
It is mainly a place of meditation which you get the strong smell of incense to confirm this notion but also a place of serenity and peace. You would probably need no more than an hour here to wander around and take photos while admiring its history.
6. Pura Tirta Empul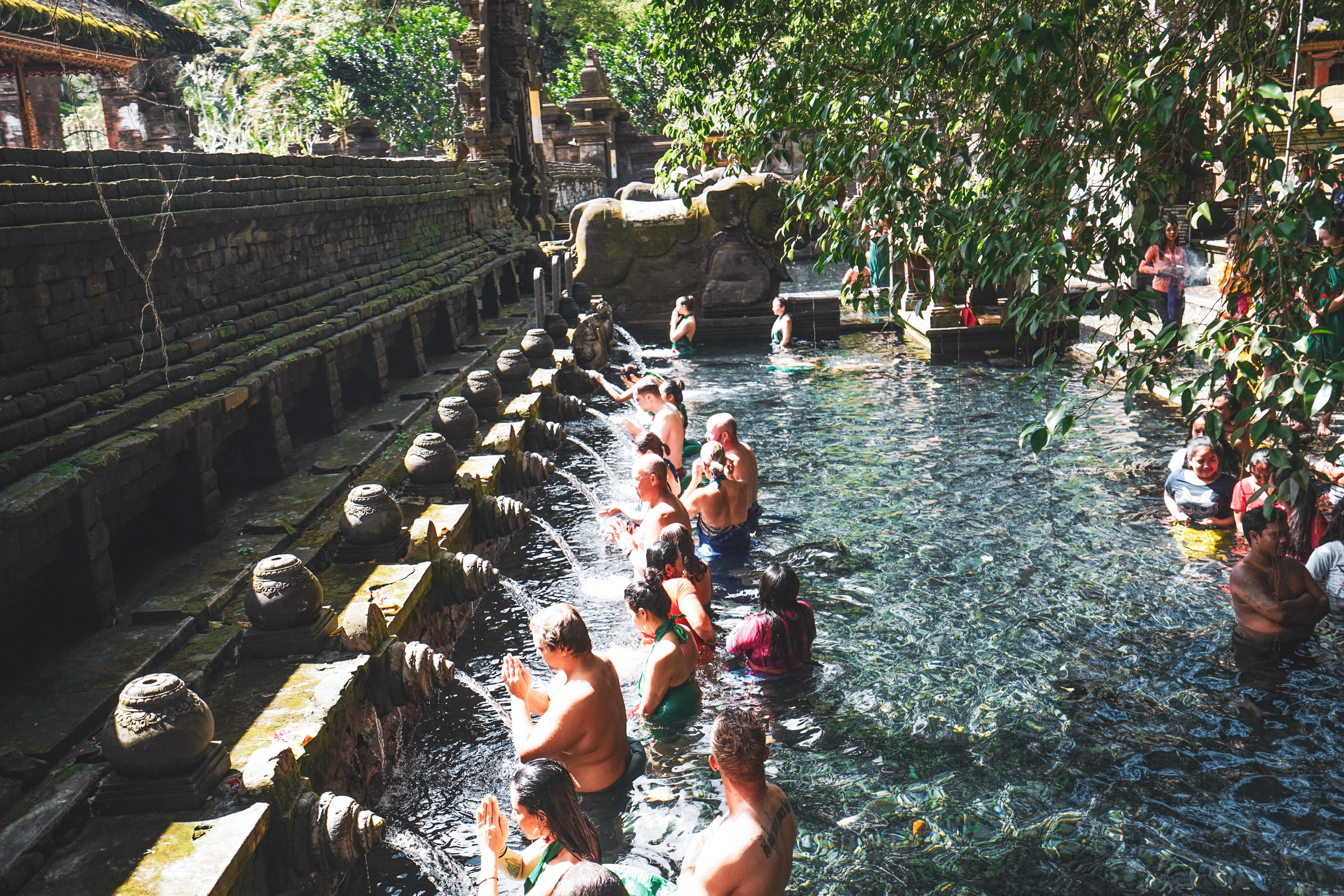 I often call this the Water Temple mostly due to the fact that its main feature is a huge bathing pool used for cleansing rituals and is often quite full of people taking part in the tradition. According to its history, the site serves as a legendary setting of good versus evil and always makes for a good tale in any language.
It is definitely worth a visit to explore its many nooks and crannies and to delve into its fascinating history and even take part in the ritual itself if you don't mind getting pretty wet. The site isn't too far from Ubud and is always best to visit early on in the day to avoid the mass crowds that do turn up around mid-morning to lunch time.
7. Ubud (Include Bisma)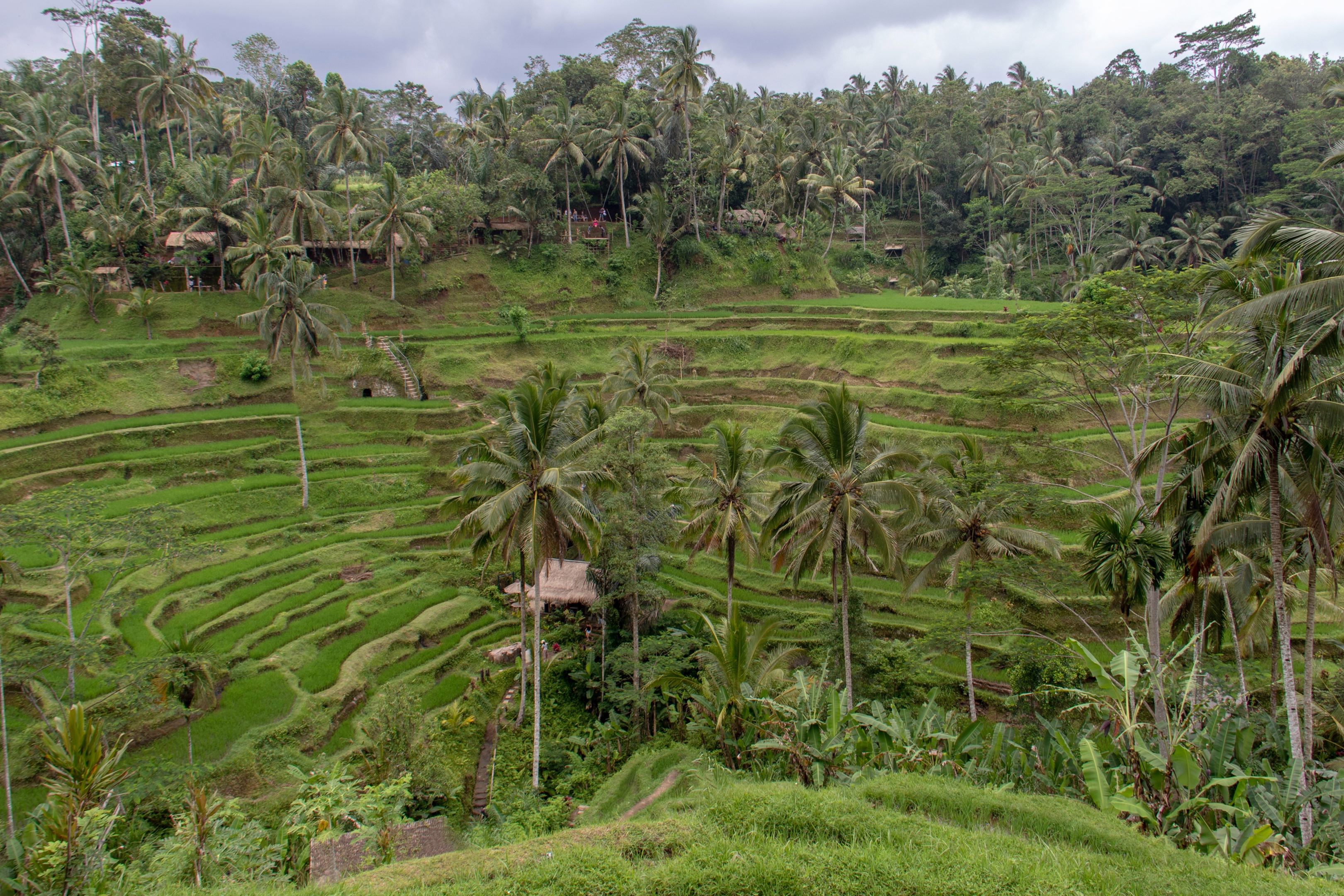 This is hands down a 'must visit' destination in Bali and you would have to be crazy not to at least make a day trip here to experience its many wonders and copious amounts of attractions. Be sure to stop by the cheeky Monkey Forest Sanctuary, the luscious Tegalalang rice fields, extravagant markets and the Tegenungan waterfall. My favourite however, is the
After a long hard sweaty day of exploring I found that Bisma Cottages was a fantastic way to unwind, and cool down in their lush pool and air-conditioned rooms. They are super central and pretty much a stone's throw away from the Monkey Forest making it a great place to base yourself.
8. Handara Gates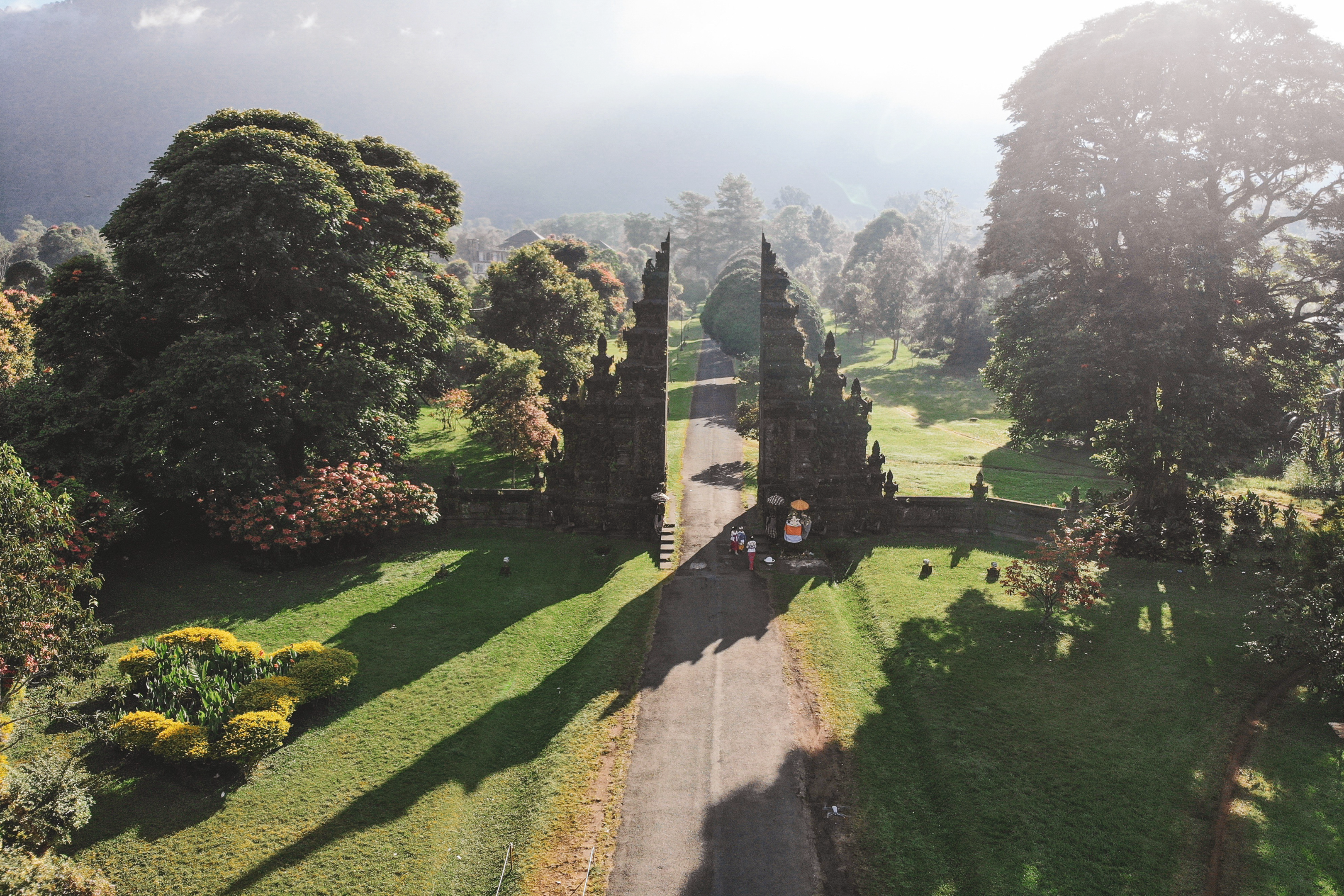 These gates are definitely another iconic and extremely popular destination to visit in Bali and rightly so as they are surrounded by lush green mountains, crater lakes, and equatorial rain forest that create dramatic backdrops into the well maintained creeping bentgrass greens. The Handara gate is actually the entrance to the golf resort and is a traditional Hindu gate that symbolises the entrance from the outer world to the temple, or in this case, the golf course.
It's best to head there as early as possible to beat the crowds. In the early hours of the morning you'll also be able to capture some light rays that shine through and look absolutely incredible. By about 7/8am however vans loaded with people will start to turn up.
Be sure to check out my website for more information and travel advice as well as my Twitter @TakeLeapTravel and Instagram @taketheleaptravel.
See more, do more, feel more with budgetair.co.uk
---
Want to read more?