Top Cities To Visit In April
April Destinations
With the year quickly kicking into gear and reaching spring already, it's time to change up your surroundings and head to somewhere new to feel more refreshed and ready to tackle life head on. It's been long enough to have had some time off and the wanderlust has been increasing while you have been at work looking towards the light at the end of the tunnel.
It may be the case that you are just looking to avoid the peak season crowds or you just want to take advantage of the better weather conditions around the worlds, whatever the reason, here are my top destinations you need to visit this year!
1. Kyoto, Japan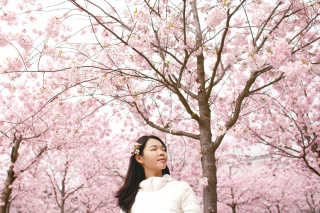 This is definitely top of my list, purely because there is arguably no other destination more spectacular than spring in Kyoto at this time of year. The city bursts into vibrant colourful life as the cherry trees suddenly blossom in rich pinks and various shades all over the city. It is predicted that peak viewing times for 2019 will be 3-11 April so make sure you book your accommodation early and get there in time so you don't miss out.
Not to mention that Kyoto is a stunning city all by itself as well, with various Buddhist temples, restaurants, shopping, Arashiyama (bamboo) forest, Fushimi Inari Taisha (the red shrine) and imperial palaces to keep you occupied for weeks.
2. Newport, California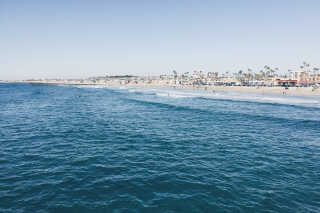 Orange County, or most commonly known at The OC is famously known for its mammoth oceanfront mansions, high-end shopping, laid-back beach bars, surfing and boats. So many boats. Albeit, Newport is a great place to visit any time of year, April is especially ideal as it's a slightly busier time of year due the Newport Beach Film Festival which attracts more than 50,000 film lovers.
April usually marks the last month of grey whale migration when thousands of grey whale's head back to the Bering Sea after spending winter in the warm lagoons of Baja California. The grey whales, along with dolphins and other whale species, can be seen on boat trips from Newport Landing and often from the coast as they pass and is well worth catching a glimpse.
3. Crete, Greece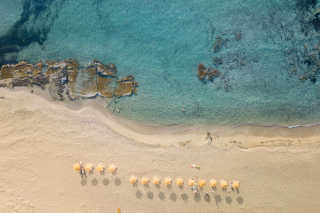 Only a stone's throw away from the UK, we only typically think of visiting Greece in the peak seasons when the sun is at its hottest and we realise we need a break from everyday life. However, during April it is an ideal time to explore the islands before the surge of tourists arrive and take them over. It will leave you feeling like you are one of the locals as there won't be many other tourists around and you will be able to enjoy the tranquillity a lot more.
Crete in particular has a fabulous range of hotels, resorts and villas that you can base yourself in, enjoying the slightly cooler weather, while wandering around ancient hillside villages, lounging by the pool, taking boat trips or enjoying some delicious Greek cuisine in their many local restaurants.
4. Marrakech, Marocco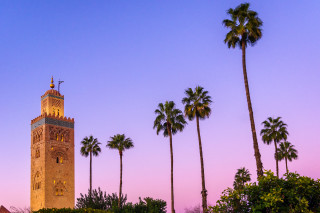 While Fez, is a great city to visit in March, Marrakech takes the win in April purely due to the weather being perfectly mild and not too much in the way of heat and humidity. The tourist crowds wont quite be at their peak yet either which helps when exploring the nooks and crannies of this beautiful city with its unique architecture, colourful markets and fragrant spices and herbs.
Base yourself somewhere in the centre of Marrakech and then walk around the city with no direction in mind, that way you will stumble upon areas you would never normally have found otherwise and you will walk away enchanted. If you are a fan of Yves Saint Laurent then definitely head to the museum which only opened in October 2018 or jump in a side car to be whisked around in style.
5. Hong Kong, China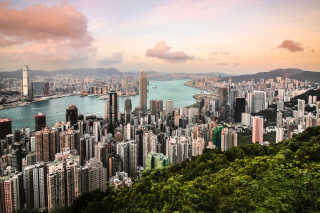 Hong Kong is one of those long-time crowd favourites that has been on everyone's 'to visit' list, and its fully understandable why. It may be a relatively small group of islands, but don't let that give you the impression that the array of activities and what attractions there are to see would be equally modest in its offerings. Want to ride the longest escalator in the world? Then HK is the place for you! The Central Mid-Levels is a 2624-foot ride that links the Central and Western districts on Hong Kong Island, with many shops and dining stops along the way.
Another fun way to explore the city is to jump on a traditional Chinese junk boat which will give you the best skyline view, especially at sun set when the colours are just phenomenal. Or for an alternative day out you can hike the Dragons back trail which is a trail that TIME magazine even went as far as to dub as Asia's best urban hike. It's a part of a bigger trail, serving as its most visually stunning portion.
6. Toronto, Canada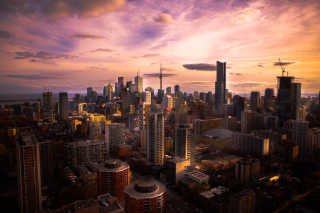 Not usually a city on most people's bucket lists, but Toronto is a great place to visit in spring due to the Sakura cherry blossoms in the city's High Park and very similar to Kyoto's own cherry blossoms. If they aren't quite your thing, then be sure to check out their varied food scene with lots of various fun and delicious restaurants or go on a tour with the Culinary Adventure to discover different neighbourhoods while sampling local specialities.
Want a more aerial view of the city? Then head up the CN Tower which will provide incredible panoramic views and offer you the chance to push your adrenalin by walking on the outside edge clipped only to the wire above you. If that's a bit too much for you, then you can always try something a little less crazy and test your weight on the glass floors inside instead.
7. Grand Cayman, Carribean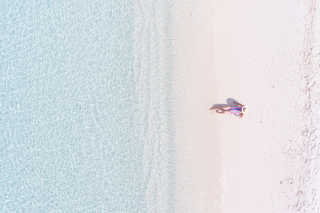 April is the perfect time to visit this highly attractive island as the weather is warm and most importantly dry as well. The rainy season starts in late May which makes it the off-season and therefore more affordable to enjoy the turquoise blue oceans, unspoiled white beaches, duty-free shopping, lively nightlife and delicious island cuisine.
Grand Cayman is the largest of all three islands, boasting the award winning Seven Mile beach which has some of the best coral reefs for diving and exploring the vibrant marine life. The Cayman Crystal Caves will keep you fascinated with their stalactites and stalagmite formations, and adventure seekers will find hiking, horseback riding, biking trails, and rainforests to explore. Or, head to Stingray City, where you can wade on sandbars among Atlantic stingrays and watch some of the most beautiful sunsets you have ever seen.
8. Venice, Italy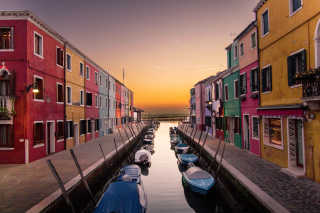 Also, known as one of the most romantic cities in the world, Venice is aptly famous for its interlinking grid of ancient canals and vibrant history. During April, the weather is a lot more pleasant, and the summer tourist season hasn't quite hit yet making it more accessible and enjoyable to explore. The best place to start? St. Mark's Square is central to everything and named after the patron saint of Venice who is symbolized by a winged lion holding a bible.
On April 25, Venice celebrates St. Mark's feast day with the Festa di San Marco featuring a gondolier regatta and other festivities in St. Mark's Square. Be sure to check out the many museum which include the Gallerie dell'Accademia, and Peggy Guggenheim Collection which are well worth checking out. You honestly can't beat strolling along the canals and small bridges, while dining on cichetti, Venice's version of small plates, and enjoying the view from the Rialto Bridge at sunset.
Be sure to check out my website for more information and travel advice as well as my Twitter @TakeLeapTravel and Instagram @taketheleaptravel.
See more, do more, feel more with budgetair.co.uk